The word Skijoring comes from the Norwegian word that roughly means "ski drive"; using animals and skis as a means of transportation. Skijoring was believed to begin as a sport back in the early 1900's in Stockholm. I have to say that I have wanted to try this doggie sport for a long time. As a kid, I purchased a sled dog harness for my dad's black lab Raven, threw on my Rollerblades, hooked her up and away we would go. Though this was somewhat dangerous, as Raven could have diverted the course to go after a squirrel at any moment, I loved living on the edge and so did she. Raven would love to take off at FULL speed for short distances. So when the time arrived for me to try Skijoring, which meant skis vs. rollerblades that "fearless kid" inside of me was excited yet the "logical adult" was thinking this may not end up so well.
One of my favorite segments to film for Minnesota Bound is called "Getting Started". This is where I enlist a "coach" to help show others and I how to get started in an outdoor activity. So I called up Tyler, and his dog Buddy, who are National Champion Skijoring team. Of course I brought along Bacon as he was also new to the sport and I was curious to see if he could catch on the basics of running in front of me.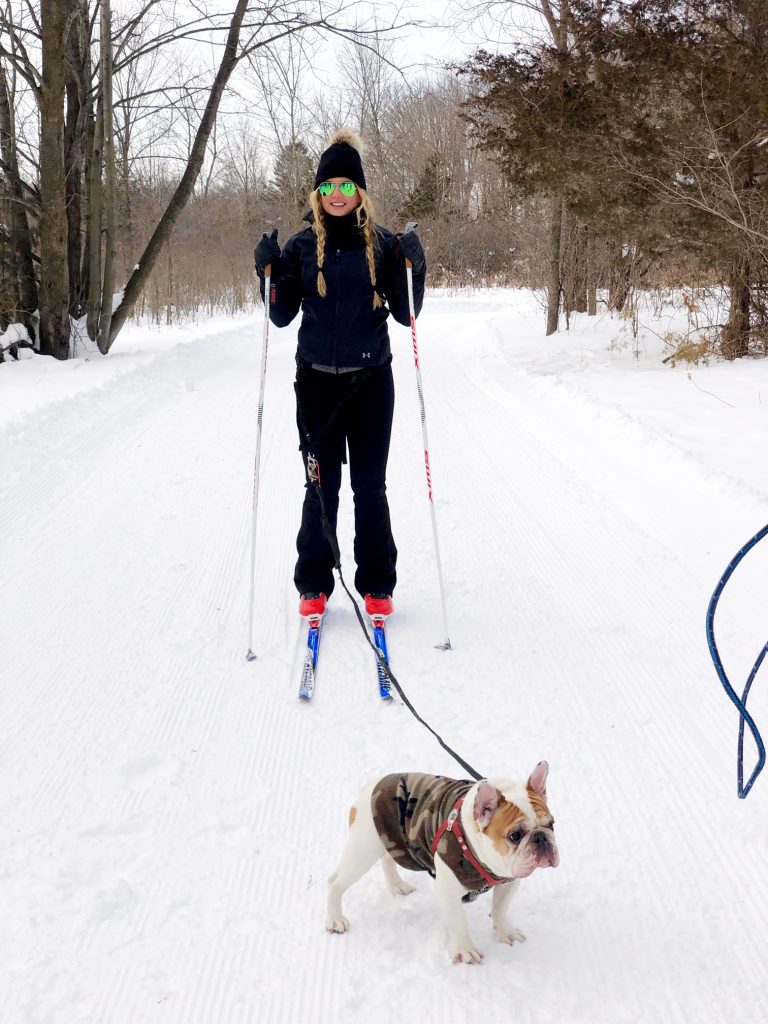 If you live in metro area of MN, this sport is easy to partake in, as there are a lot of resources available to help you get started. The Three Rivers Parks system has trails that are dedicated to skijoring as well as rental ski equipment available. If you are going to try this out, make sure you are using park trails that allow dogs and skijoring. You will also need to purchase the equipment needed for your dog. To keep your dog safe, purchase a pulling harness and bungee towline –– plus, you'll need a hip belt! You can find everything you need at The Dog Outdoors.
I realized that some dogs love to pull naturally and others need a little coaxing to get going. As you can imagine, Bacon needed bone bribery. Tyler suggested that food is a good way to get your dog interested in skijoring. Ask a friend to help you out and hold a snack in front of your dog to encourage him/her to propel forward and then reward them. Also some dogs love to chase other dogs so having another dog run in front is also helpful in teaching your canine the concept of "pulling".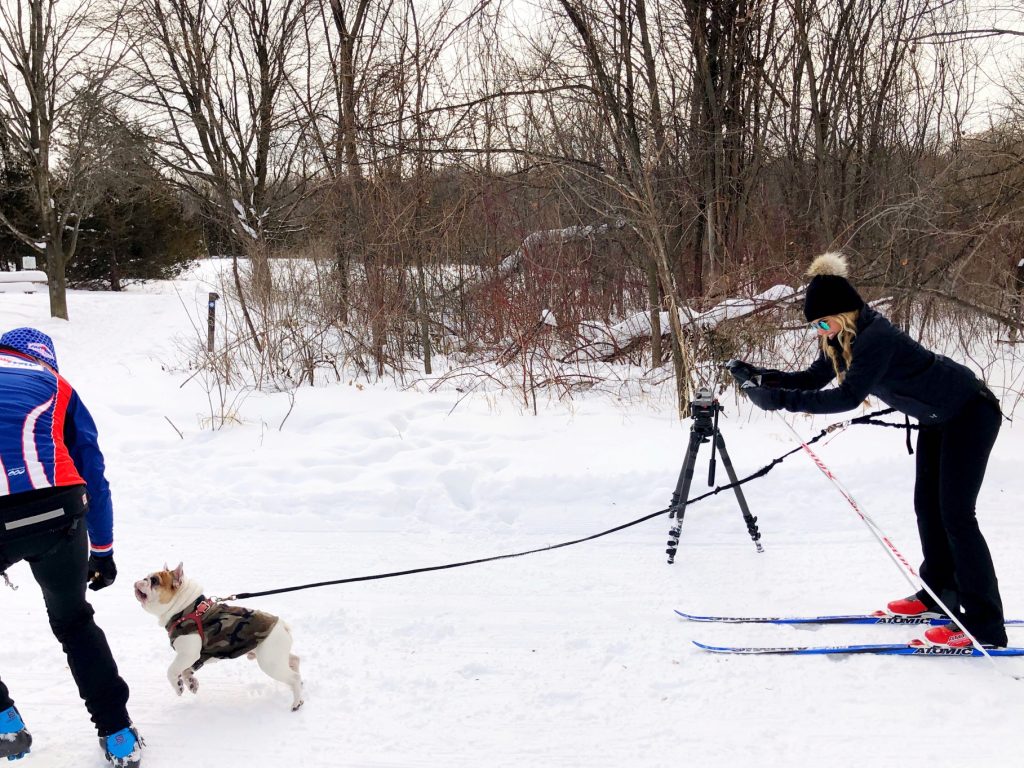 Being a French Bulldog has its disadvantages, one being short legs. Bacon had a lot of fun, went a very short distance and he was ready for a nap. I put him back in the car and Tyler grabbed his top dog Buddy. Buddy was obviously a natural at this sport as he was barking and ready to go. We hooked up and away we went. I was shocked by the power of one dog. In fact Buddy was so powerful that I took a few spills while learning this sport. These bloopers are destined to make the segment on Minnesota Bound as falling and getting back up is part of this sport. I delighted in feeling so weightless and fast on cross-country skis and the dog's happiness was apparent. Anytime we stopped he was barking for more action.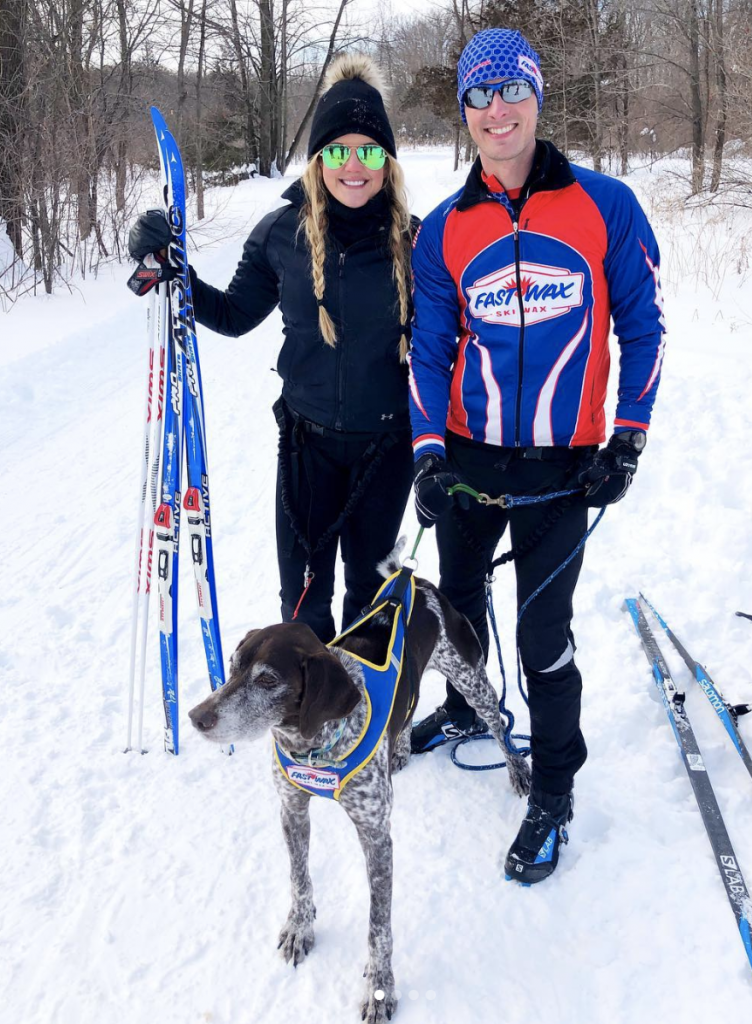 My suggestion for anyone wanting to try skijoring is to practice your cross-country skiing skills first before you attach yourself to a powerful pulling canine. Have fun with the learning curve, as your dog needs to learn the ropes as much as you do; and trust me, your ropes will get tangled at first, its just part of it. Many hunting dogs would excel at this sport and it's a great way to exercise them (and you) in the winter months.
Plan ahead for next year and schedule a free skijoring lesson for you and your dog! You won't regret trying this fun snow sport!
Happy tails and trails to you!
~Laura